NOTE: The next version following this will be released Sunday Afternoon!
Header Notes: Since this is my first compile I left out some stuff on accident. Nothing big but still I appologize. There will be a revision following this on Sunday evening fixing all the stuff I left out.
*ScriptDev2
*Transports going Crazy in mangosd.exe file
*Updated SQL Made for 2.3.2 instead of just a compatible version.
*Option in Batch file whether or not to install vendors on GM Island.
*FIXED Lan Party Option in Batch File
*AH-BOT is Now Going to be Included!!!
*Weather System Fixed!

Another Mangos release again after the last 4875 release (that is released one month ago), and this time the release uses Mangos Core 5005 which was written by Jared (Oatman). In this release we are providing support for patch 2.3.2 along with ScriptDev 218, and UDB 334. In this release all the boats are fixed and many new things have been added. Since this is my first release for you guys, I hope it is not buggy. I have tested it multiple times and everything seems to be ok. Although, I am 100% positive that the backup tool works. So before you go to the upgrade folder, go to the normal batch file and backup your database.
And yet another note, I will not be providing support for the MaNGOS Mod. Instead I am going to include the Mod's already into the game because it is confusing to have to decide than switch back if a update is not provided for it. Oh and by the way, the only Mod in this release is the custom NPC Vendors. So here is a side note for everyone using Reaper's Previous MaNGOS Mod.
If your using MaNGOSMod
Go into your database and change mangosmod to mangos, and realmdmod to realmd and charactersmod to characters. From this point you may run the upgrade wizard and update and get back on track with updates. Since I have re-written the batch files, they are alot more customizeable so you may not have to change your database name. (This has not been tested, so backup before you do so.)
REQUIREMENTS:
1. MySQL Database and the Guide on how to Install MySQL
2. World of Warcraft Client version 2.3.0 or 2.3.2
3. Updated DBC's, VMAP's, and MAPS.—Extraction Tools Included in Release Under Tools.
-Already Extracted 2.3.2 DBC Files
4. Mangos Server :
Reaper Mangos 5005 SD2 218 UDB FULL | 14.3 MB | File Beam
Reaper Mangos 5005 SD2 218 UDB FULL | 14.3 MB | Rapidshare
Reaper Mangos 5005 SD2 218 UDB FULL | 14.3 MB | Mega Upload
Updated Batch file to fix lan party configurator : Updated 5005 Batch File .. To use it just overwrite the reaper-x-mangos.bat with this one ;)
Fresh Install:
Important Note : Fresh installation will overwrite your database
1. First you'll need to install MySQL
2. Extracting Maps, DBC and VMaps from your World of Warcraft installation
(You can safely ignore the Patch-2, or any not found xxx-2 message)–This only happens if your extracting from patch 2.3.0
3. Run the reaper-x-mangos.bat inside the reaper-eazy-mangos folder, and you'll see something like below image for an example, and then you just need to write the full path to your mysql installation directory (where mysql.exe and mysqldump.exe can be found) ;)
4. Selection Option 1 by pressing "1" on the keyboard and pressing enter.
Note: This will wipe out any previous versions of WoW you have in your database.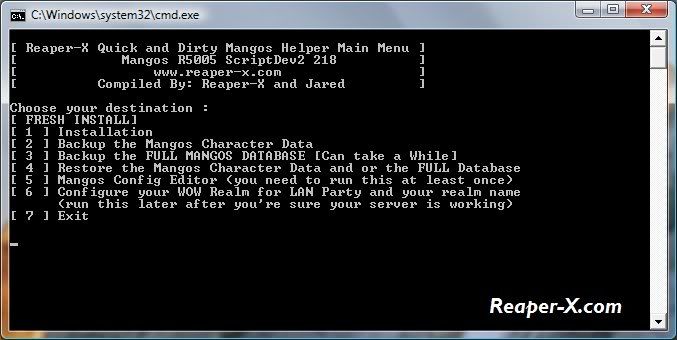 6. After finished with all of the above process, all you have to do now is just open the realmlist.wtf file in your World of Warcraft installation directory (the default location can be found at C:\Program Files\World of Warcraft) using Notepad, Wordpad, or your favorite text editor and then …
Replace :
set realmlist us.logon.worldofwarcraft.com
set patchlist us.version.worldofwarcraft.com
With :
set realmlist 127.0.0.1
and then save it and close realmlist.wtf File.
7. Now you just need to run mangosd.exe and realmd.exe from your mangos directory and then the next step would be creating your own username with your desired password for your own WoW server account as shown on below image followed by typing setgm to give yourself a GM level account
By the way, if you can't see what you should type inside the mangosd window from the above image, actually you just need to type :
create username password
to create the account
setgm username 1-3
to give yourself GM Access at certain level (3 is the highest level and should only be used on your account while normal player is 0)
8. Finally if you have Burning Crusade client installed and want to be able to create Burning Crusade specific character, all you have to do is just type :
setbc username 1
to enable burning crusade expansion for your account :)
Optional :
If you want to change the server name into something else, you can use the reaper-x-mangos.bat to adjust it :)
Upgrading from 4875 Release:
1. Re-extract vmaps, maps and dbc because this version no longer supports the old World of Warcraft 2.3.0 installation and only supports the new 2.3.2
2. Go into your WoW Reaper Server Directory, and open reaper-eazy-mangos. Next I recommend opening the batch file and backing up your character data. This is optional though.
3. Open the Folder called "Upgrade" and run reaper-x-upgrade.bat.
4. Next type in the directory to the Bin Folder where your mysql.exe and mysqldump.exe files are located.
5. Then make sure that you are upgrading from the latest previous version or else you WILL corrupt your database and possibly lose your character data.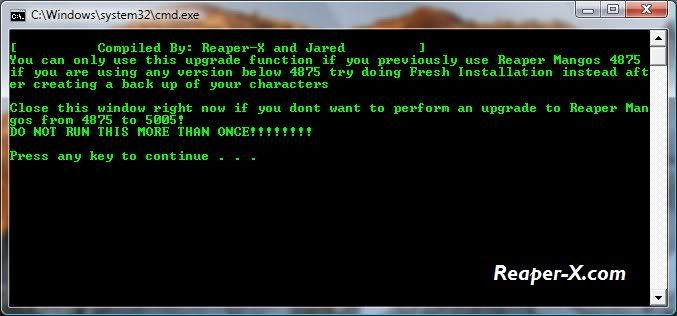 If you have any questions or concerns, please post them below and Reaper, The Community, and I will be glad to assist you. :)