To make things short, as you can see from this post title, this is a short how to so you can hack games on your PC so you can get infinite health, mana, and so on
Required tools:
Memory Editing Program: you can find this on the internet although i'll only put one sample as tutorial here :) and for example :
Artmoney (Shareware/Freeware) : this memory searcher comes as freeware and shareware version although there's only few differences between the freeware and shareware version
Cheat Engine (Freeware) : same as artmoney plus this program can search memory from your Network (for example you were playing games on pc1 and want to cheat from pc2, you can use this tools)
and many other tools such as TSearch (Freeware) , MemoryGutterXP (freeware), etc … try searching the net if you want to use different program
Optional Tools :
Trainer Maker : because i cant find the official website anymore, you'll have to search for it by yourself. What this tool does, as the name implies, it is to create trainer without the need to code it by yourself
and in this tutorial i'll give you an example on how to cheat in your game by using Artmoney freeware version ;)
First step is running the target application / games first and then press ALT+TAB and then run Artmoney / Cheat Engine
Next step is choose the target application from the Select Process dropdown list
Now press ALT+TAB again into your game and looks for the values you want to freeze / mod. For example your current Hero health is 1600. And then press ALT+TAB again into Artmoney Window and press Search button and search for that value. For example take a look at image below
After finished searching for that value, go back into your game by pressing ALT+TAB and let your hero lose its health (but dont let your hero die). For example after getting hit by monster in the game your hero health become 1200
Now go to the artmoney window again by pressing ALT+TAB and now choose FILTER and search for current hero value. Like image below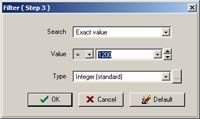 And do the above steps until you find only 1 results
After finding the correct address then you can modify its value to your liking or freeze its value and that's depend on how you want it. And you're done with your game hacking :)
In this example the game were using a static memory address not dynamic memory address (memory address which is always change whenever you load/start new game). Also the Hero health can be seen directly not hidden by using a Percent Bar / Health Bar / whatever you name it
But if that's the case you can also search for an unknown value, and in order to do this you can search for an Unknown Value instead of Exact Value. And do the above steps to find the correct address. Btw if you're using a Large Memory (RAM) it'll help you alot in your game hacking process since it'll take alot of physical memory (RAM) to search memory from your games.